November is National Family Caregivers Month
Are you a caregiver for someone with migraine? Every November, we take the time to acknowledge those who provide care for their family members living with chronic conditions. We recognize and honor all caregivers during National Family Caregivers Month (NFC Month). It's also the perfect opportunity to raise awareness about caregivers' challenges, educate communities, and increase support for caregivers.
The Caregiver Action Network spearheads the celebration of NFC Month nationally. The theme for 2023 is #CaregiversConnect. The aim is to celebrate the efforts of family caregivers and reduce feelings of isolation.
Caregiving for Someone With Migraine
Living with migraine can be really challenging, so having someone who helps care for you during attacks can make a big difference. There are many ways to support and care for people living with migraine.
Learn all you can about migraine. Learning the basics, like the 4 phases of a migraine attack, its symptoms and treatment is the first step in being able to help others.
Ask about your loved one's experience. Migraine is a complex neurological condition. There are many common migraine triggers, symptoms, and treatments. However, everyone will experience migraine differently. Discuss with your loved one how their attacks are triggered. Ask about which medications are used, when, and if they have any side effects that need to be managed. Become familiar with other at-home therapies that may ease pain, like ice packs, heating pads, or medical devices.
Understand the action plan for treating an attack. Everyone with migraine should have a doctor-approved treatment plan or toolbox. Ask what is in your loved one's treatment toolbox and discuss how you can help when an attack strikes. Here are a few things you can do as a caregiver:

Help them take their medications. Opening child-proof caps and reading prescription bottle labels can be difficult, especially when impaired during a migraine attack. Help them find the right medicine, open it, and take it correctly is a huge help. Along with migraine medications, they may take meds to help reduce nausea. You can also help them track when medications can be taken again. For those who use injections during an attack, sometimes it is easier for the caregiver to even be the one to give the injection!
Keep at-home therapies ready. Make sure ice packs/hats are in the freezer and ready to use when needed. Having more than one will ensure one is always cold and ready to go. Store the heating pad, medical devices, and other helpful aids in an easy-to-reach place so you can grab them quickly. Help your loved one use these aids and replace them as needed. Keep a "go-bag" of medications in an easy to access place, so that you can easily find all the needed medications.
Create a calm, quiet, and comfortable environment. When people have migraine attacks, they can become very sensitive to light, sound, movement, and touch. They also can be either hot or cold. Help them get into their softest, most comfortable clothes. Help them get as comfortable as possible in their bed. Keep the room cool and provide extra blankets and plenty of water. Turn the lights off, close the blinds/curtains, and keep the house as quiet as possible. And, don't forget to check in on them to see how they are doing. Call the doctor if symptoms are not improving or get worse.
Don't Forget to Take Care of Yourself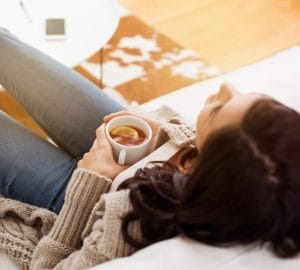 Caregiving is extremely difficult. It is usually much more challenging than anticipated. Especially when the caregiver has a job, goes to school, or has other family responsibilities. It's important to take time for yourself and practice self-care. Going for a walk, working out, a day at the spa, taking a few hours to have lunch with friends, or just enjoying alone time can also be self-care. In addition, connecting with other caregivers who are experiencing the same challenges, and who understand, can be a lifeline. Reach out to others for emotional support, and don't be afraid to ask for help!
Help Raise Awareness For Caregivers
You can help raise awareness for caregivers during National Family Caregivers Month using the hashtags:  #CaregiversConnect, #NationalFamilyCaregiversMonth, #NFCMonth, and #familycaregivers. Remember to hashtag #migraine, too!
---
Let us know! Are you a caregiver for a loved one with migraine? What are the unique challenges you face? What recommendations do you have for other caregivers?