How to show support for people living with migraine as we celebrate this day of love.
Valentine's Day is almost here, which means it's time to officially celebrate the ones we love. Unfortunately, many gifts that are traditionally associated with Valentine's Day can actually trigger migraine attacks. With a few easy swaps, you can create a more migraine-friendly day for your loved one, or them for you! 

Migraine-friendly Valentine's Day Wish List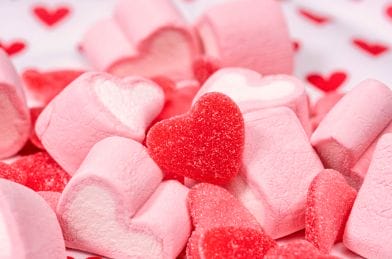 Here are a few of our favorite gift swaps.
Be creative with candy: Chocolate is the traditional go-to choice for most candy gift-giving. For some, chocolate can trigger a migraine attack. Instead, get creative and consider options like gummy candy, which come in different flavors and shapes (even hearts!). Hard candies like lemon drops, licorice, or even fluffy marshmallows can be fun, sweet, treats. The same with sugar-free candy – for some people with migraine artificial sweeteners can be a trigger. However, if these things are not a trigger for you, it's totally fine to treat yourself.
Choose candles with batteries: Candles are a great way to set the mood. Unfortunately, scented candles that burn (or wax melts) can trigger migraine pain. Battery-operated candles are preferred over scented candles and are available as tea lights and pillars. As an added benefit, overhead and fluorescent lighting can make migraine pain worse, so candles can be more soothing.
A hat just for migraine: This past December we asked our community which gifts were on the top of their holiday list. The number one response was a migraine hat. The gel inside the hats can be used for hot and/or cold therapy. Store it in the freezer when cold therapy is preferred, or pop it in the microwave for warm therapy. Having more than one hat is preferred so one is always ready to go when needed. Consider getting your loved one a migraine hat or migraine "comfort" gift such as a blanket, fuzzy socks, or neck wrap.
Subscriptions that last all year long: Consider gifting a subscription for book readers, audiobooks, or podcasts. Apps for meditation, sleep, or gentle physical activity like stretching and yoga can also be helpful There is even an iPhone migraine app for biofeedback, Juva, that is worth considering!
Create a non-alcoholic mocktail: Alcohol, including wine, is a common migraine trigger. Consider creating your own signature mocktail using fruit juice, sparkling water, and fresh herbs.
Flowers that are fragrance-free: Fresh flower bouquets are beautiful and often smell lovely, but their fragrance can trigger migraine attacks. Consider fragrance-free flowers like sunflowers and hydrangeas, or choose a plant like an orchid instead. Avoid flowers with high pollen like stargazer lilies that can trigger allergies and sinus headaches. (Note: if someone gifts you with flowers that include lilies, it may help if you remove the stamens – that way you can enjoy the flower without the trigger)
How to Show Love and Support
Gifts you buy are great, but there are many other ways to love and support the people in your life with migraine.
Educate yourself Take some time to learn about migraine and its symptoms. This will help you understand the condition better and how it affects your loved one. Migraine 101 from Migraine Meanderings is a great place to start.
Just listen: People living with chronic pain are often isolated and feel alone. They hesitate to disclose their pain or symptoms for fear of becoming a burden or sounding whiny. This means they keep the pain and stress of living with migraine to themselves. Ask about their experiences and try to understand what they are going through.
Show empathy: One of the most supportive things you can do is ask, "How do your migraine attacks impact your life?" And listen, really listen. Provide empathetic responses such as, "That must be really difficult for you." and "I'm sorry you are living with this pain." Try not to give advice unless you are asked to do so.
Offer practical help: Ask how you can best help, or better yet, just do it! When your loved one is having a migraine attack you can help with daily chores, run errands, or offer to keep them company. If someone is alone during an attack, having another person in the home can be comforting.
Be flexible: Chronic migraine is unpredictable. Triggers, pain severity, and frequency can change quickly. When your loved one cancels at the last minute or needs some time alone in a dark, quiet corner, be respectful of their needs without shaming or criticizing them. Encourage them to take the time they need to rest and recover and ensure them that you will still be there when they are feeling better.
Make Valentine's Day a Migraine-friendly Experience
People with migraine may feel more isolated on Valentine's Day since it celebrates most of their migraine triggers. This year, think about how you can make your loved ones feel more included and supported. And if you live with migraine, share this list with your family and friends.
---
Let Us Know
Do you struggle to find the right gifts for someone with migraine? Have you received gifts that trigger your migraine? Which gifts are on your wish list?